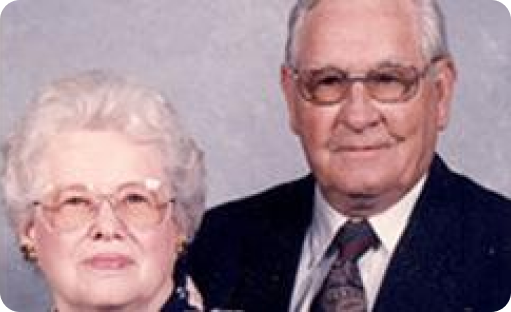 Rex and Helen Jeffers founded Jeffers Mortuary in October of 1959 in the old Allen Home at the corner of College and Church Street, where Town Hall stands today. Rex purchased the present-day funeral home at an auction in 1962. The building was finished in 1890 by M. P. Reeve and had two private owners. The city of Greeneville purchased the home and built additions onto the original home for a school named Eastside, which was a school for 30 years. It was also a teen recreation center, golden gloves boxing, and many other things. The building was empty for some time and the city condemned the building. After Rex purchased the property, it took 26 months to restore the home into the present-day funeral home. Jeffers Mortuary held its open house on September 19th and 20th of 1964. Rex ran the business with the help of his wife, Helen, who did the bookkeeping and secretary work when she wasn't teaching school for 30 years. Rex and Helen lived upstairs at the funeral home for 28 years with their two children, Richard and Sharon.
The Jeffers Family has been in Greene County for over 200 years. They are from Baileyton, TN when it was called Laurel Gap. Rex's father, Dr. Ed Jeffers, and grandfather, Dr. Lowery Jeffers, were country doctors in the Baileyton and Rheatown areas. They served the people of Greene County as the current generation of Jeffers serves their families who trust them with their loved one's funeral services.
Rex passed away in July of 2015 at 98 years old. He still came into the funeral home on occasion to make sure everything was to his specifications well into his 90's. He worked his last funeral 3 weeks before his death. His son, grandson, and great-grandson were also at the funeral, making 4 generations of Jeffers at work that day. The day-to-day operations have been handed over to his only son Richard Jeffers, with Rex's grandson, Justin Jeffers, who is Richard's youngest son, assisting the day-to-day operation. Jeffers Mortuary has always been a family business and will stay that way for many years to come.